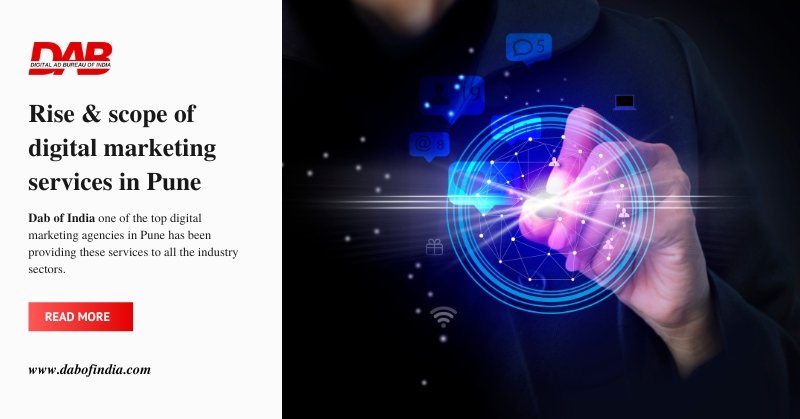 18 May

Rise and Scope of Digital Marketing Services in Pune

Digital marketing has revolutionized the way businesses advertise their products and services. With the rise of the internet and mobile devices, more and more people are spending their time online, making digital marketing a crucial component of any business's marketing strategy. In Pune, the digital marketing industry has seen significant growth in recent years, with an increasing number of businesses opting for digital marketing services.
The Rise of Digital Marketing in Pune
Pune, has a thriving business community, which has been quick to adopt digital marketing practices. The city has a large number of startups and SMEs, which are driving the demand for digital marketing services. Dab of India is one such agency leveraging the power of the internet to help businesses reach their target audience, generate leads, and increase sales. The scope of digital marketing services in Pune is vast and varied. With over 4 billion internet users on a regular basis, it is impossible to ignore digital marketing.
Some important statistics that have increased the scope of Digital Marketing in Pune
Increasing number of internet users: Over 4 billion active internet users. This makes it easier to reach out to a wider audience
Increased ROI: Digital marketing services are one of the best ways for small and medium enterprises to multiply their business and grow
Target specific audience: With the latest and updated tools it possible to target audience on social media in different categories. Facebook ads alone give you an edge to narrow down your ads and hit the right audience.
Scope of Digital Marketing Services in Pune
Dab of India is one of the best digital marketing service companies in Pune. The scope of digital marketing services in Pune is vast and varied. Here are some of the services offered by Dab of India in Pune are:
Search Engine Optimization (SEO): SEO is the practice of optimizing a website to rank higher in search engine results pages (SERPs). SEO is a crucial aspect of digital marketing, as it helps businesses increase their online visibility and drive more traffic to their website.
Social Media Marketing (SMM): SMM involves promoting a business's products or services on social media platforms like Facebook, Twitter, LinkedIn, and Instagram. SMM is a powerful tool for building brand awareness, engaging with customers, and driving website traffic.
Pay-Per-Click (PPC) Advertising: PPC advertising involves placing ads on search engine results pages or social media platforms and paying only when someone clicks on the ad. PPC advertising is an effective way to drive targeted traffic to a website and generate leads.
Content Marketing: Content marketing involves creating and distributing valuable, relevant, and consistent content to attract and retain a clearly defined audience. Content marketing is an excellent way to establish a business as a thought leader in its industry and build trust with potential customers.
Performance Marketing: Performance marketing is a type of digital marketing service where advertisers pay only when a specific action is taken, such as a sale, a click, or a lead generation. A performance marketing service helps advertisers to create and optimize their performance marketing campaigns.
Conclusion
In conclusion, digital marketing services in Pune have seen significant, with more and more businesses adopting digital marketing practices to reach the right audience. Digital marketing agencies in Pune are offering a wide range of services, including SEO, SMM, PPC advertising, content marketing, and email marketing, to help businesses achieve their marketing goals. Dab of India one of the top digital marketing agencies in Pune has been providing these services to all the industry sectors. As the digital landscape continues to evolve, businesses in Pune and around the world will need to adapt to stay ahead of the curve.